A bunch of rubber slippers outside the front door of one's house usually means a good time.  Some of the happiest times in my life were spent at my maternal grandparents' house in Papaikou.  I can just picture their stairs; sometimes half of the stairs would be covered with slippers.  That usually meant there was family around… and love in the house.  A well-slippered front door is what Hawaii is all about – sharing in good times and sometimes bad times, but always sharing.
I recently framed this Esther Szegedy original.  It was hanging around, unframed, for quite awhile because sometimes it brought me happiness, but other times, I almost could not bear to look at it.  Just glancing at it would sometimes trigger a wave of emotions that would stop me in my tracks.  This, combined with the fact that it was so special to me and therefore wanted it to be framed perfectly (whatever that means) led me to leave it in hiding for months.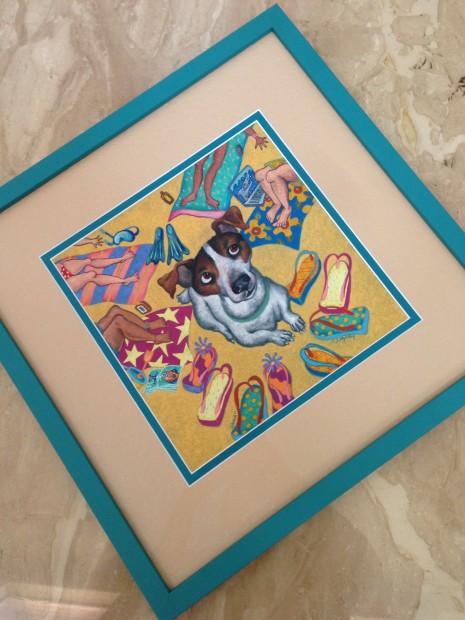 My grandfather passed away in January at Hospice of Hilo's Pohai Malama Care Center.  He spent his last days there, in the care of the most beautiful human beings that I believe are angels on Earth.    It was a difficult time for our entire family, yet it was the most amazingly beautiful time as well.  There were so many moments that I experienced that made my heart smile, literally.   I doubt that my face smiled at all in those couple weeks, but there were definitely times that I felt my heart like I had never felt before.  A few weeks ago, a letter that Fiona Apple wrote to her fans canceling her tour because her dog was dying went viral.  The entire letter was a tear-jerker, but the excerpt that I thought was so spot on was where she wrote, "Many of us these days, we dread the death of a loved one. It is the ugly truth of Life, that keeps us feeling terrified and alone.  I wish we could also appreciate the time that lies right beside the end of time.  I know that I will feel the most overwhelming knowledge of her, and of her life and of my love for her, in the last moments.  I need to do my damnedest to be there for that.  Because it will be the most beautiful, the most intense, the most enriching experience of life I've ever known."  For this, I will be eternally grateful to Hospice of Hilo for allowing me this experience.
The hospice facility has a kids' room.  I don't know if they knew how much of a saving grace that room would be, not just for kids, but for anyone losing their loved one.  It's a ray of sunshine in the facility.  It's bright.  It exudes light.  It remind you in an ever so subtle way about the cycle of life.  Esther Szegedy's colorful artwork adorn the walls of this room. I'd visit this room and it would bring me peace.
After Grandpa died, I wanted something to remind me of him.  Little did I know that when someone you love so deeply passes, you don't need "things" to remind yourself of them.  As the months went by, I realized I remember him, daily, in everything.  He is everywhere.   Still, at the time when his death is so raw, I spent a lot of time focused on the fear that I would forget him.  I decided I wanted something from Esther Szegedy for my home here in Vegas.  I chose this one because of the slippers and because of the dog.  Amongst those that loved him, was my Grandpa's dog, King.  My Grandpa was proud of King because he could count.  Really, he could.
I'm finally in a place where I'm ready to hang the artwork.  And it's perfect.  It will hang on the last wall I look at before I walk out the door in the morning and the first wall I look at when I walk in the door in the afternoon.  Maybe some days it will bring tears, but mostly it will bring joy… and hope for the many more days of my life that I will honor my Grandpa in the relationships I have with the people who leave their slippers at my front door.