#luckywelivelasvegas 'cause we have Vizzun Entertainment's Pure Aloha Festivals. The eighth annual fall festival is going on right meow through the 6th at the Rio Hotel & Casino. It combines 'ono food, shopping, carnival rides, and concerts into fun for the entire 'ohana. I'm not gonna lie. I don't go to every Pure Aloha, mostly because I have to be in the mood to fight crowds. But hey, when it comes to shopping, I put my game face on and crowds don't mean a thang.
A few days ago, Farmer's Market Hawaii's posts started popping up on my newsfeed…. totally peaking my interest, of course. Hmmm, I thought, perhaps it is worth fighting some crowds for only the hottest, homegrown brand out of the 808 right now. Over the days, I got a couple of Voxers from friends asking if I could grab them some gear. Well, now of course I have to go, right? What kind of bad friend would I be if I didn't? Once my shopping pheromones are activated, I'm unstoppable.
Farmer's Market's followers are no strangers to lines, as they line up for days (ok, maybe not literally) when new stuff is dropped at their location on Kona Street on Oahu.   There's some goods available on their online shop, but the real magic happens at their exclusive drops at their store, or wherever they decide to drop into.
If you don't know of Farmer's Market Hawaii, here's a little bit about them from the bio that's on their site:
When you think of a farmers market, many thoughts and feelings come to mind. The idea of freshness. The quality of something made by someone from nearby. Mostly a sense of community. That's what we envision for Farmer's Market Hawaii; but instead of fruits and vegetables, we sell clothes and related apparel. Each design is a fresh product of its surrounding environment.
We didn't feel the need to conform or tone down our designs to sell them in a department store. We came together with the goal of having our own retail store. Keoni Payton, who put this together also created Defend Hawaii before what he calls the "captain cooke acquisition." Many of their best selling shirts were designed by Keoni so he had everyones (Raleigh, Sean-Paul, and Kulani) full support when he asked "who's fucking in this?" Keoni is a trip, he's a living example of….whatever he wants to be I guess…haha. I don't know anyone else that could hit the streets with no money or anything for that matter, and six months later have a reputable clothing brand that artist and musicians would be wearing on national television. Our whole team comes from very humble beginnings and that's the way we want to keep it. Rooted and grounded, the underdogs, the something from nothings. One day, when we accomplish our biggest goals, it's because we worked hard and hustled harder.
Why we chose the Tiki as our logo? There so much culture and mythology surrounding the Tiki or as the ancient Hawaiians called it Ki'i. The core of it's representation is God and it doesn't matter what religion, with God comes faith, hope and miracles. Even in the darkest hours, if we have hope we a chance at something better. It's ionic form has a strong presence in all of Polynesia and all over the world. We think its more than a coincidence, its destiny. We never chose the Akua, the Akua chose us.
What's not to love about a company who started from the bottom, now they here… started from the bottom now their whole team f'in here?  (ok, sorry, I kinda love Drake)   I also especially love supporting anyone who's been Captain Cook-d… 'cause it's happened to all of us in one way, shape, or form & it sucks ass.
So, I bailed from work early to get myself some tiki-love and hauled my heiny to the Rio.  Shout out to the truck that rear-ended someone on the freeway.  Since it was reppin' Farmer's Market stickers, I figured they were on their way to the same place.  I accomplished scoring some sweet parking and being third in line which is quite an accomplishment 'cause I'm hardly ever third in line for anything.
4pm sharp, I paid my *cough* eight-dollars and marched straight toward booth #36 to be second in yet another line.  The Farmer's Market guys, in true Hawaii-time, were still setting up, so I was left there to ogle the stuff from my place in line.  Fifteen minutes and eight shirts later, I was ready to check out the rest of the scene.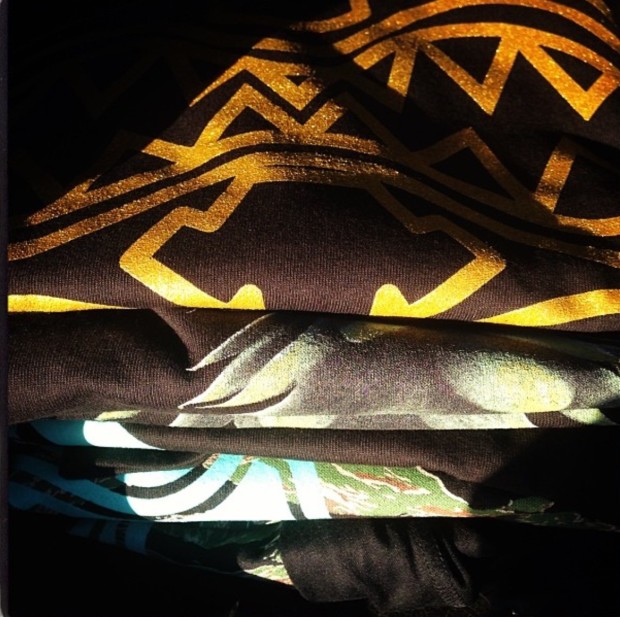 Also coming home with me were these stickers from UDown.  Read it, it's funny sh*t.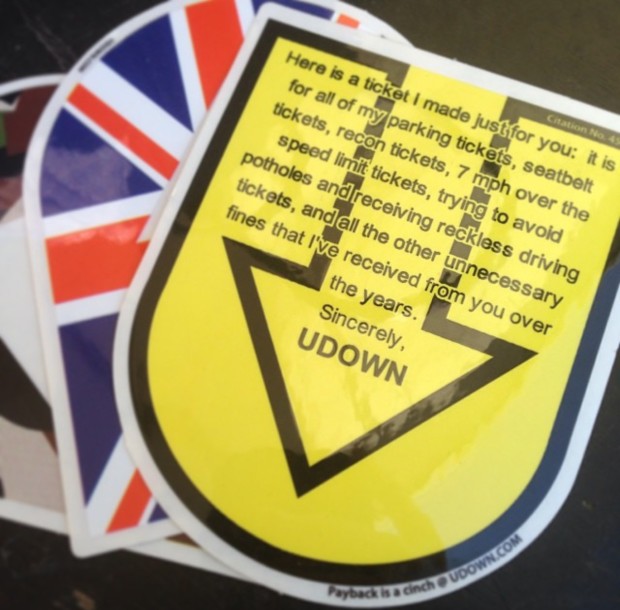 Now, for the most important decision of all.  What to grind?  I've been hearing through the social media grapevine of Hawaiian Hot Dogs. Three local braddahs joined together to create a twist on the traditional hot dog.  They operate out of a food trailer.  Problem is, they are most often parked at Spearmint Rhino, or "K-Kel, Inc." for those women who see this on your man's credit card statement (eek, did I just expose them?), and a good girl like me is just not at The Rhino all that often.  I was thrilled at my chance to try their dog, sans the Rhino atmosphere.  I ordered the Island Big Boy (or something like that), which is portuguese sausage, garlic mayo, chili, onions, and mac salad on a sweet bread bun.  There may have been more stuff, but that's the gist of it.  I brought it home to eat and Mimi and I both approve.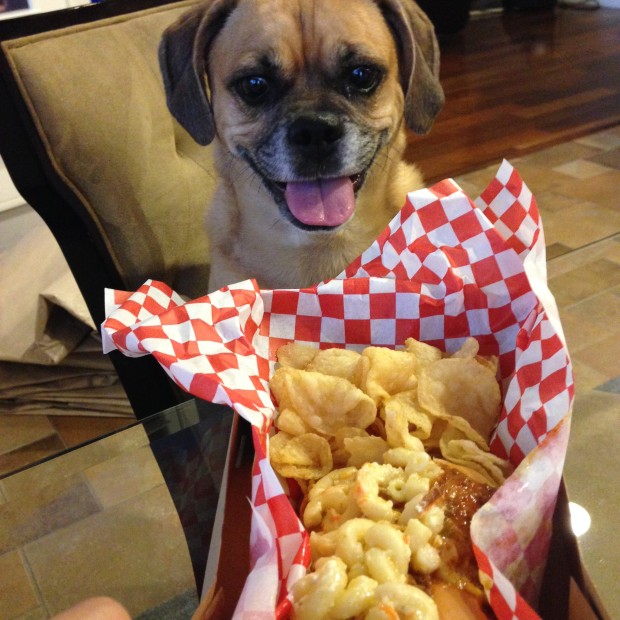 After eight years of living here, I've discovered the secret and I'm gonna let you all in on my little new-found secret – go to Pure Aloha at opening.  No moa nobody!  On the real though, I'm thankful for Vizzun Entertainment and them consistently putting out Pure Aloha Festivals.  I believe that the best place to live outside of the islands is Las Vegas and one of the reasons is that there's events like these that keep the local people connected.
By the way, if you're down for some Farmer's Market Hawaii, follow them on Instagram.  They are running a repost contest for some gear and will be picking one winner from Hawaii and one from Las Vegas.  Winner will be announced Saturday at 9:30 HST.