One thing I am passionate about is seeking and supporting Hawaiian-owned businesses.  Luckily, here on the "Ninth Island," this does not pose an extreme challenge.  Of the hundred thousand plus Hawai'i transplants living in Nevada, it seems that a good portion of us have an entrepreneurial spirit.  It truly makes me happy to see a fellow "Hawaiian" doing well, succeeding, and making their dreams come true.  For a lot of us, being on the mainland is a huge sacrifice and one of the reasons we are still living away from the islands is to take advantage of opportunity or create opportunity that we perceive would not otherwise exist at "home."  While this does not always manifest itself as being a business owner, I know that for some, this is the chosen path.  Every now and then, I hear someone make a comment along the lines of "you Hawaiians really stick together."  For me, this rings true.  I love "doing business" with a fellow "Hawaiian."  The reason is simple.  I understand your struggle.  I understand what you're giving up to pursue this business.  I understand what that means on the surface and what that means to its core.
I'd like to believe that a Hawaiian-owned business  is run differently than that of a mainland-owned one.  I do believe that for many "Hawaiian" entrepreneurs, money is not the main motive.  While I understand that making money is absolutely necessary, I can't help but frown upon the "mainland business model" which places money above all else.  I truly believe that Hawaii-owned businesses are a reflection of Hawaii's culture and the decisions a business-owner makes are guided by his or her own sense of what is pono.  We grew up knowing aloha and hopefully living aloha.  So, it only makes sense to me that our businesses will know and live aloha too.
Jill Reinhardt is a Maui-girl and the founder and owner of Kama'aina Magazine, a full-color print publication featuring stories of aloha from Hawai'i and the Mainland.  Jill is based in Las Vegas and the magazine is available at various locations in Las Vegas, Washington, Florida, & Hawaii and also by subscription.   I'm sure that everyone who has had the pleasure of meeting and knowing Jill will agree that she is just an awesome individual… a cut above the rest.  She's one of those people that you meet and immediately know is good, true, and authentic.  Kama'aina Magazine is much more than just a business.  Her passion for perpetuating Hawai'i's culture and connecting "Hawaiians" is evident.  Supporting Jill, who pours her heart into her business and is making her dreams come true with Kama'aina Magazine just makes you feel good.  It also doesn't hurt that she has the cutest daughter ever, Bella.
Her magazine is published quarterly and the seventh issue just hit newsstands.  This issue's cover story features Lanai, Adam & Shawn, Team Aloha Plate from the Food Network's The Great Food Truck Race.  There is lots of other good stuff inside, so be sure to swing by any of these locations to purchase your copy or have your copy delivered to your door by subscribing.  If you turn to page twenty, you'll find lil' ol' me!  In every issue there is "Meet A Kama'aina" story and my bio is featured in the Fall issue.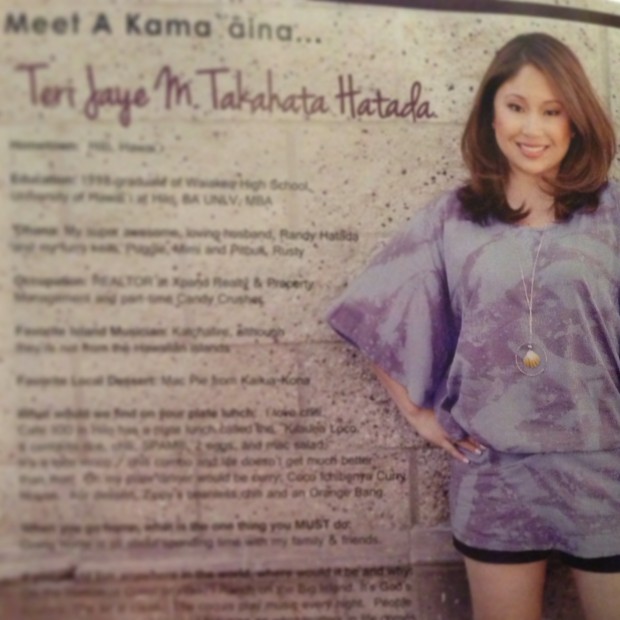 Like myself, Jill is also passionate about supporting Hawaiian-owned businesses on the mainland.  A spin-off of Kama'aina Magazine, Kama'aina Connections is the work of a collaboration between Jill and my husband, Randy Hatada (shameless plug).  It is a business directory with the goal of connecting aloha in Las Vegas.