Spent my night watching ESPN and bawling. Yes, crying at ESPN. Never thought that moment would ever occur. And, it's not even "that time of the month." TV hits a soft spot now and then and it especially did back in the Oprah show days. Tonight's tear jerker was part of ESPN's 30 for 30 series – Hawaiian: The Legend of Eddie Aikau.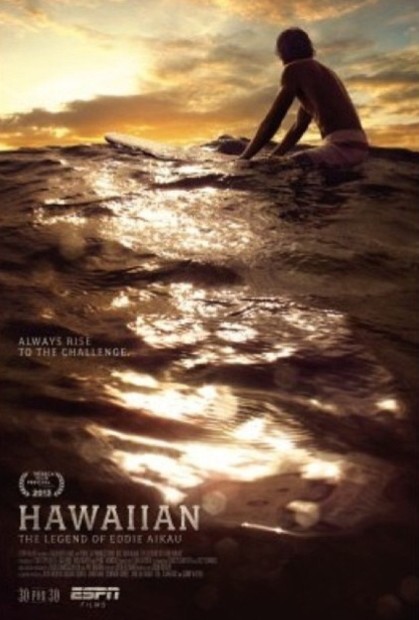 Inspired by ESPN's anniversary, ESPN Films launched 30 for 30, a documentary series featuring thirty of today's finest storytellers telling thirty remarkable stories. Collectively, these films are a diverse mosaic of what sports has meant to American and World culture in the last thirty years.
Although I've known the story of Eddie Aikau, to see it on the "big screen," per se, knowing the audience that ESPN garners, was emotional. What impressed me most about the film was the way the history of Hawai'i was so articulately woven with the legend of Eddie Aikau. It gracefully danced the fine line of telling Eddie's story and telling that of the Hawaiian people. This seems like what Eddie would have wanted – to use his story, his legacy, and name not for his glory, but to raise awareness of his beloved ancestry and culture.
I loved how it was evident that the producer, Sam George's goal was to get to the real Hawaii and not the hula dancing, palm tree swaying, bad aloha shirt wearing Hawaii that is usually portrayed in the media. Fist pump to explaining what a "haole" is, the history behind Hawaii's anti-haole-ism, and their frowned upon character traits. High five to the nod at the difference between a Hawaii-resident and a native Hawaiian, mentioning that "Hawaiian referred more to a zip code than a bloodline." The producer did such a beautiful, eloquent job of explaining Hawaii, its essence, its spirit, and soul to mainstream USA.
The tears fell because of the authenticity of it all. I'm numbed by TV… numbed by the dichotomy of how fake reality TV is. I was not prepared to watch something so pure and true. The tears fell because I love Hawaii and I was overjoyed to know that this is how some people will be introduced to Hawaii. I resonated with one of the statements made about Eddie, "He wanted people to love and enjoy Hawaii." With this sentiment, the tears came from that same desire.
Grab a kleenex, or a beer… and your kids and parents to watch Hawaiian: The Legend of Eddie Aikau. Hopefully you DVRd it. If not, catch a replay at 9:30 pm EST on Wednesday, October 2, or wait for the film to hit iTunes and buy in HD for $4.99.